Whether you're a new or experienced Speech-Language Pathologist (SLP), there's always something new to learn. Books, seminars, and on-the-job training are essential, but few things compare to recommendations from SLPs who share your passion for helping students and patients.  A rising number of Speech-Language Pathologists blog, and some are quite good at it!
It would be time-consuming for you to follow all SLP blogs, so we've assembled a brief list of our favorites. Most of the SLP blogs mentioned in this article, which all feature recent activity, are written by Speech-Language Pathologists. We selected blogs based on what we hoped would be most useful to our readers with content specifically tailored for clinicians, parents, and caregivers. We also chose blogs that are professional, current, and well-written. Finally, we picked SLP blogs that emphasize sharing general resources and news instead of promoting products or services.
So, without further ado, check out the top eight SLP blogs to follow today!
Lauren, the Louisiana-based SLP/blogger behind Busy Bee Speech, offers products, app reviews, activities, and free printouts as well as Spanish bilingual resources. Recent topics include practical tips for school-based SLPs, preschool stuttering therapy techniques, and speech therapy virtual learning advice. Articulation, literacy, behavior, fluency, and language (and more) are all areas prominently featured on this popular blog.
Upon entering this site, you will see colorful graphics and clear titles for a wealth of topics related to autism. This blog covers many concerns and challenges for parents, teachers, and therapists, including tips for enjoying the holidays, handling bullying, and more. One standout is an article contributed by Catlaina H. Vrana titled Autism Explained: An Autistic Woman Explains Common Autism Characteristics, Misconceptions, and the Neurodiversity Movement. Vrana's book Ella Autie: A Book About Autism Written by an Autistic Person is also featured on the blog. Thanks to multiple contributors with varying educational and professional backgrounds, diverse perspectives abound here.
Speech and language experts Sherry Artemenko and Erika Cardamone bring you Play on Words. In this blog, they recognize exceptional toys, games, and books that encourage language, spark fun and invite creative play. The site is easily navigable with real-life photos and examples of great products at work. Artemenko and Cardamone write in detail and from experience, which fosters a sincere atmosphere. As a bonus, the blogger's insights have been shared on NBC Connecticut, News12 Connecticut, and other prominent news outlets. Artemenko currently advises children's authors and startups for children's toys and media. Plus, she started Play on Words sixteen years ago—way before blogging became fashionable!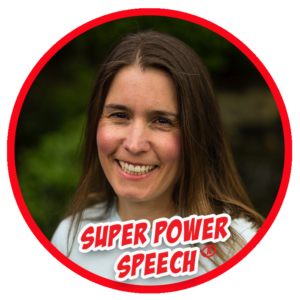 With a terrific tagline like Empowering SLPs and Educators with Super Ideas!, you'll be compelled to stay and read on!  The great news is that once you're in, this exceptional blog does not disappoint. A button shows visitors exactly where to begin, leading to an introductory video by SLP blogger Cheri Chin in which she explains the blog's mission. Super Power Speech is inviting and offers great articles and tips as well as an opportunity for SLPs, parents, and educators to connect and share.
Anne Page is an Arizona-based Speech-Language Pathologist and blogger who started Beautiful Speech Life to empower SLPs, SLPAs, and Special Education Teachers to help children with complex communication needs. A minimalistic blog that is easily navigable, the site is abounding with personal anecdotes, therapy ideas, learning tools, products, and helpful resources, including an SLP Toolkit, a sign language course, and the Communication Matrix. One notable highlight of Beautiful Speech Life is AAC Academy, an academy "coaching" program that provides SLPs and educators with the necessary knowledge about AAC in a school setting.
Ohio-based pediatric Speech-Language Pathologist Jenna Rayburn Kirk is the mastermind behind Speech Room News, a speech therapy blog that provides news and ideas straight from Jenna's speech room. This informative site offers online courses, a compilation of SLP blogs and websites, free therapy activities, an IEP goal bank, and free speech therapy paperwork shortcuts to decrease IEP and evaluation report writing time. Speech Room News, which covers topics from articulation and grammar to organization and social language, is an excellent source of encouragement and creative inspiration for SLPs and educators.
With the uplifting tagline Manage Your Caseload With Confidence, this colorful blog was created by Felice Clark, a school-based SLP who lives in northern California, to help other SLPs who are overwhelmed with managing their caseloads. The Dabbling Speechie offers tools, free activities, and inspiration to more effectively serve students. A highlight of this resourceful blog is Real Talk SLP, a weekly podcast hosted by Felice that delves into innovative therapy ideas, strategies, and SLP professional development tips.
Also known as "Miss Speechie", Hallie Sherman is a New York-based Speech-Language Pathologist and the founder of Speech Time Fun. In her blog, Hallie shares low-prep, effective, and engaging activities with the goal of helping "SLPs like me conquer the overwhelm by giving them back hours spent prepping activities." Complete with personal development courses, a weekly podcast featuring a variety of guest speakers, and an entire page dedicated to freebies, Speech Time Fun is a popular favorite among SLPs, parents, and teachers.
As a member of the Speech-Language Pathologist community, we understand the value of sharing ideas, especially when you are the sole practitioner in your school or district. SLP blogs are great tools for getting inspired, gaining confidence, sharing ideas, and broadening your scope.
Check out these SLP blogs, and tell us which ones you like best. Post in the comments about your favorite speech and language therapy blog, and tell us what makes it so special!
Get apps and activities delivered to your inbox monthly: txsource.com/newsletter
Looking for a therapy job? Check out our current openings: https://jobs.txsource.com